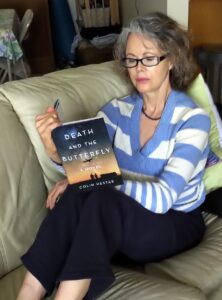 During the winter quarter of 1991 — my second quarter in the University of Montana's MFA writing program — I enrolled in a lit course concentrating on James Joyce and taught by the English Department Chair Henry "Hank" Harrington. Hank was a tall good-looking man with thinning grey hair and a fondness for matching his tweedy preppie attire — he was heir to a forty-million-dollar fortune whose blue-blood family were encastled in the über-enclave of Winnetka, Illinois — matching that rumpled patrician gear with scuffed-like-a-ranch-hand's workaday cowboy boots. In that Joyce class we covered Dubliners and Portrait of the Artist and Ulysses. What is paramount here is that during the summer before, the U. Montana MFA admissions committee had deigned my application manuscript unworthy of a teaching assistantship. (I am powerless to resist herein mentioning that said manuscript contained an early draft of what would grow into the Death and the Butterfly chapter "Polo at Daybreak"). Point is, lacking an assistantship, not only was I paying brutal and crippling full out-of-state tuition, but I was doing so with the crushing exchange rate of a weak Canadian dollar.
Anyway, the class called for us to write something called "prolusions" — a page-long response to any assigned portion of the text, not dissimilar to "aperçu": an immediate impression or insight. My first prolusion was pitiful: utterly without insight and embarrassingly cast in a pseudo-Joycean mimicry. Hank gave three grades, he told us, on these prolusions: ✔ (okay), ✔+ (excellent), and (the woe-is-me) ✔-. When Hank handed back my first prolusion, I had none of the three whatsoever. That's right: no grade. It was that undeserving. Rather, he had written: You're tasked, Colin, not with writing like Joyce, but writing about Joyce in the same 'spot-on' and perfect voice you use so wonderfully in class. I was both ashamed and inflamed. So for the second prolusion, I was determined to do just that: zilch artifice, Joyce-ing or posing; just my immediate impressions and inadequate insights but in the truest Coli-Brit voice I could manage.
A week passed. Nothing. Finally Hank handed back our second prolusions. Alas, on this my second, he also gave me no grade. But lo!: he also included a postcard. Yes! Paper-clipped to it. A postcard of the famous oil painting of James Joyce hip-leaning against his desk-edge with a cigarette in his right fingers. On the postcard's reverse side Hank had marked a huge ✔++ .
Authenticity? Yes.
Lesson learned? (well, sort of).
Supposedly and laughingly, most graduate schools have a merciless two-tier hierarchy not unlike Hollywood: there are the A-list stars and then there are the struggling B-listers. U Montana's MFA grad school was no different. That day, Hank granted me ascension from the struggling B-listers to the anointed. It was mid-quarter so he couldn't engineer an assistantship for me. But through his machinations, he string-pulled me into a twenty-hour-a-week job tutoring in the University's writing center and by April of that same year I was awarded for the coming fall a teaching assistantship and full tuition waiver. I owed Hank my, ah, backside. When that happened, recalling that postcard he gave me, I remembered from a few years before seeing on the last page of an Esquire magazine issue, a photo of Marilyn Monroe sitting on a park bench (it was actually a merry-go-round) reading the last page of Joyce's Ulysses. She's in shorts and a tank top. Quite gorgeous of course. Supposedly taken by her husband at the time, the playwright Arthur Miller*. And obviously staged of course. This was back in the pre-internet brontosaurus days, so I physically combed through the copies in the Mansfield library stacks of their bound Esquire holdings and eventually and incredibly my memory hadn't failed me: there she was in striped shorts and tank top, cradling the book open at its final page. The so-called Molliloquy. The simple caption beneath?: …and yes I said yes I will Yes.
Seventeen years later in January of 2008, Hank tragically drowned with his wife in the cold waters of one of the world's largest inland seas: Montana's Flathead Lake. But seventeen years earlier, back in 1991, I had in my gratitude for his saving me, color-photocopied that picture of Ms Monroe and Ulysses and had it inexpensively framed. When I handed it to him the next day in his office he was speechless. The framed photo was stand-up-able and he awarded it the prime-est positioning on his office desk and gushed about it to all his colleagues, inviting them come and pay witness. It being the early nineties of polarized politics in English departments, this proved to be less than a wise idea. For a vocal portion of his colleagues protested and told him the image was pornographic — I kid you not — and when he bowed to their pressure and removed it, another equally vocal portion of his colleagues excoriated him for capitulating to the "feminist fringe."
Truth to tell, I hold many left-wing, liberal opinions about many many things, but about this I hold a different opinion. He gifted me an inoffensive image. I in turn reciprocated with what I thought was an equally inoffensive image — and too, a more-than-slightly sad one, with that Norma-Jean melancholy that ever lingered around her Marilyn platinum-ness, like the inescapable scent of a winter seaside. And Hank? Hank owned a cottage on an island in the middle of that chilling sea and on a bitter January Sunday night when Hank's wife Nancy had to get back to Missoula for Monday morning meetings — she was a pre-eminent CPA with a formidable clientele — their motorboat wouldn't start. Pressed for time, they opted (some say, with too much hubris) for a large canoe but with their two Labrador retrievers along it somehow capsized and they drowned. The news reports about the tragedy made clear mention of the fact that the search party found the two dogs, who had swum back to the island, desperately pacing back and forth by the water's edge and barking frantically in vigil for their beloved masters' return. Alas, it was not to be.
So when the publishing date of my novel Death and the Butterfly arrived back in July 2020, I remembered all Hank had done for me. No Hank, no teaching assistantship, probably no Diamond Sutra (my first novel) and thus likely no Death and the Butterfly. Certainly no thirty-year career paying for food and rent, and saving for retirement by the absurdly cushy gig of standing in front of college students and frothing on for endless hours about nouns and verbs, about the active versus the passive voice, and occasionally even about James Joyce.
So Henry, I offer up this meme to you: My beautiful wife Susan, seated a-la-Monroe, reading the last of the poems written by a dead airman for both another Susan but also for her. I'm no Arthur Miller (neither with pen nor camera) and Death and the Butterfly is, thanks in no small part to Hank, in mine own voice and no other's, but Susan? — sorry, Marilyn, even at your young age you don't measure up.
But then, I'm immeasurably biased of course.
*But, as I found out these internet decades later, in reality taken by the photojournalist Eve Arnold in 1955.